Clermont County CVB helps secure movie locations
The Clermont County Convention and Visitors Bureau's main focus is to develop economic growth in the tourism industry. They host many events which welcomes thousands of visitors to Clermont County each year. In addition to hosting many events, they have started to work with scouting and location managers for the filming of upcoming movies.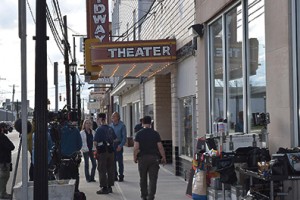 On April 3 and 4, Clermont County hosted the cast and crew of the upcoming Old Man and the Gun, a movie about an elderly bank robber (Robert Redford) who had managed to escape from prison over a dozen times in his life before moving to a retirement community. He looks to spice things up with another heist. Other cast members include Casey Affleck, Elisabeth Moss, Sissy Spacek and is directed by David Lowery.
When filming a movie in Clermont County it takes a team to organize the details. "To host Old Man and the Gun, I was working with the movie's location manager, Clermont County village administrators, mayors, Ohio Department of Natural Resources and local police stations, just to find the perfect spot," Margaret Bedilion, sales and events manager at the Clermont County Convention and Visitors Bureau, said.
With our partnership, the location manager was able to find three different locations to shoot over the course of two days. We had to close down a few sections of East Fork State Park, roads in the Bethel area and street parking.
The movie has created a lot of good media for the Clermont County and the Cincinnati community. More importantly, it creates a substantial economic impact to our hotels, restaurants and local businesses. "Alongside the Greater Cincinnati & Northern Kentucky Film Commission, we are working to bring more movies to the Clermont County area and currently scouting locations for a film this summer," Bedilion said.